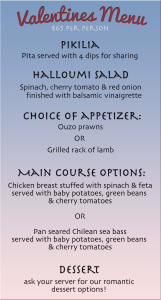 Hello, and welcome to the online home of Koutouki Taverna – the best greek restaurant in Edmonton! Located at 10719 – 124 st, Koutouki Taverna is a family-run Greek restaurant offering an authentic Greek food and a lively atmosphere. We use nothing but the freshest ingredients in our recipes that are homemade in house daily. The decor is comfortable, welcoming, and resembles a quaint taverna one might stumble upon when travelling the Greek isles. However, on Fridays and Saturdays when the sun goes down, the energy goes up. Bellydancing, plate smashing, and Zorba dancing make for an exciting and memorable dining experience.
Our website is designed to showcase Koutouki and make it easier for you to find the information you need. Whether you want to read the menu or book your reservation, its all here! We hope to see you soon!
**We have not been affiliated with the Koutouki Gateway restaurant since June of 2010.
~OPA!